I rode 125 miles on the road bike at the Grand Tour in Malibu, CA!
How about them apples?!? Matt's shocked that I'm not more excited, but I guess I'm still in a state of shock. My longest ride since the surgery was 40 miles in Durango. I got the ride done in 11 hours, 53 minutes...definitely not a race time, but hey, I'll take it! I ended up burning 3404 calories and had an average heart rate of 133, so I definitely took it at a leisurely pace. No
results
posted on the website yet....arggghhhh!!
I had a blast on the ride. Started out going solo, and rode with a woman who was out on the course for a leisurely weekend ride on her own. We talked and rode through the more "gruelling" climb on
Latigo Canyon Rd together, which was nice. She was one tough rider too! When we parted ways, I rolled down the hill and ran into a guy, Bart, with a soggy course map he could hardly read. Since Matt had prepped me the night before with a laminated map we put together at Kinkos and clipped onto my brake and shifter cables, I had the perfect navigation system (and
a record of an awesome ride
that can be done again and again). Bart, not knowing me and my directional deficiencies, willingly allowed me to navigate the ride. Anyway, turns out Bart is from NY and on travel in CA for 2 weeks doing business, so he decided to do the Grand Tour. Pretty cool!
So, we made it to the first rest stop at about 35 miles or so. I felt really good! I grabbed some orange slices and 1/2 a banana and we continued on to the next checkpoint at about mile 65 where we were given a great lunch. 2 other riders, Ron and Ray both from CA, joined us for the next part of the ride. They said they were going to go for a group run the next day, which I found to be highly unlikely...they ended up running 17 miles the next morning!! So, after hearing the story that Ron and Ray took a wrong turn right from the starting line, we still let Ray lead the pack. We ended up missing a confusing turn and got a "lovely" climb that added about 2.5 miles to our journey. No biggie, we got some great downhill on the way back to the correct turn. Ray had ridden like a bat outta hell and totally dropped us...he got a 151-mile ride reward for that one. The rest of us made it on to the 3rd and last checkpoint. This stretch seemed to be the longest to me. I was glad to take a break!
Check point 3 was my last bailout point. I had a respectable 87 miles under my belt and my hip was starting to hurt a bit,
but hey, I only had about 35 miles left
, so why not go for it? We ran into Matt at this checkpoint as he was finishing up
his double century
. We saw Richard and Dave, who were riding tandem on Dave's new bike too. Matt offered to pull me the rest of the way, but I didn't want to hold him back, plus I wasn't quite ready to get back on the bike yet. I popped a few ibuprofen, and Bart and I hit the road. Ron hung back to wait for Ray who was still returning from his wrong turn.
On the last leg of the tour, I got some sort of crazy burst of energy and was hauling tail (for me) at about 21 mph for well over 10 miles. I turned around to see if Bart was still behind me and he was nowhere to be found! I was a tad bummed, because I'd lost my riding buddy and now I'd probably have to finish the rest of the ride on my own. As I hopped back on the bike to get ready for the solo trip to the finish line, a guy from Rancho Cucamonga, CA came up and we rode together for a bit until we hit the PCH.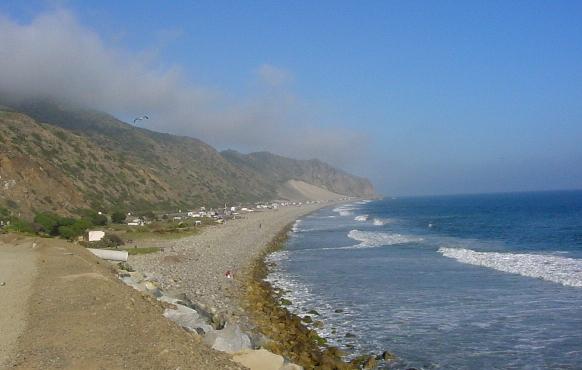 I had to bail to use the restrooms, so I said goodbye to him and the rest of the ride was on my own. There were 6 climbs on the PCH that I wasn't really expecting, but I managed them all just fine!

I rolled into the finish line to see Matt fixing a plate of BBQ for himself. Richard and Dave were there too. Matt quickly set his plate down, grabbed my bike, and told me to hurry and check in--they were timing us! Matt had a recovery drink and a warm plate of BBQ he fixed, just for me upon my return. What a sweetie. ;o) He finished his 200 miles BEFORE I finished my 125, starting about an hour before I did.
I had a great experience and I would DEFINITELY do it again! Matt talked me into entering at the last minute. I had planned on doing a solo ride while I waited for Matt to complete his double. What a great change in plans! I think I'm ready for the doubles now!!
Tomorrow is the
Chica ride
--it may be a small one, Sue is in Japan for work, Kiyoko's son has pink eye (iffy) and Kim may have her son. That leaves me and Paige! Regardless, should be a fun ride. It's raining now and it rained yesterday. The trails should be in nice condition!